At Rainbow Bridge Marketplace we are building a team of individuals who are passionate about quality food and healthy living, and love to provide great service to our neighborhood communities. We have 2 job openings at the moment, scroll down for details.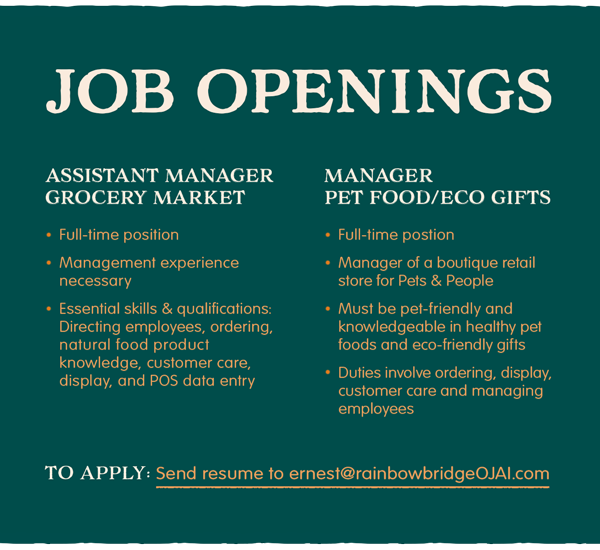 Job Title:
Assistant Manager – Grocery
Job Description:
Support & assist the store manager in all aspects of grocery store operations.
Essential Knowledge, Skills, & Experiences:
• Management experience
• Store operations (Inventory, cost control)
• Directing employees
• Purchasing
• Natural food product knowledge
• Providing customer care
• Display, and POS data entry
To Apply:
Email your resume to Ernest@RainbowbridgeOJAI.com
Job Title:
Store Manager – Warehouse (Pet Food & Eco Gifts)
Job Description:
Manager of a boutique retail store for Pets & People. Duties involve ordering, display, customer care and managing employees.
Essential Knowledge, Skills, & Experiences:
• Must be pet-friendly
• Knowledgeable in healthy pet foods and eco-friendly gifts
• Basic computer skill required
To Apply:
Email your resume to Ernest@RainbowbridgeOJAI.com