According to 2015 statistics, Americans go through 50 million plastic water bottles each day. That means, it takes more than 17 million barrels of oil to meet those demands for bottled water, since most plastics are derived from petroleum. Astonishingly, that's enough energy to fuel more than 1 million cars and to power almost 200,000 homes each year. (www.banthebottle.net)
With a commitment to provide the healthiest options of food and beverages available while protecting the environment, Rainbow Bridge Natural Foods has created its own on-the-premises, state-of-the-art water-processing plant for Reverse Osmosis and Distilled Water. Both types of water are free of bacteria and most impurities.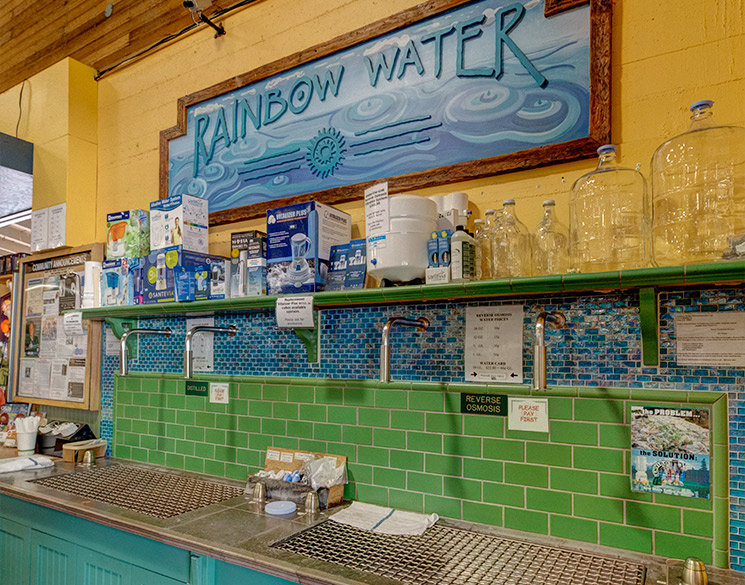 Reverse Osmosis (RO) is among the best filtration processes available. Water passes through a series of filters, gradually taking out more and more contaminants. For our process, we chose hi-glow, low-energy reverse osmosis membranes that save water and recirculate the wastewater to further maximize efficiency.
Distilled water is another type of purified water that goes through a different process that includes boiling the water, capturing the steam (pure H2O), and condensing it back into water. We chose our distiller because it uses less electricity and has less wastewater than others.
When you come to Rainbow Bridge, fill up while shopping, or use our 24-hour vending machines, located just outside the store. We also carry a variety of reusable containers.
Remember to ask for a taste if you're not sure which to choose.
For additional information, click here to see Rainbow Water brochure.

This error message is only visible to WordPress admins
Error: No feed found.
Please go to the Instagram Feed settings page to create a feed.