Boody is silky soft, super stretchy and hypo-allergenic. Comfort blended to perform. The yarn is spun from organic bamboo, the fastest growing, renewable, water conserving plant on earth.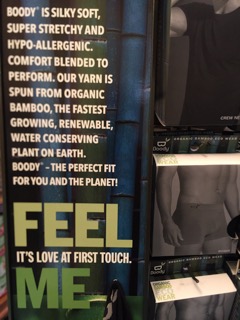 Boody – the perfect fit for you and the planet
Feel – It's love and first touch. Customers have gone crazy for this new brand of ecological eco wear undergarments. Stop by the Annex and see what else the staff can surprise you with.
Always an experience!